Josh White
Yacht Specialist
Growing up a native to the Chesapeake Bay, Josh has spent his entire life boating in the area since he was a small kid. His Great-Grandfather Bronza Parks was a well-known boat builder in the eastern shore, building many types of recreational fishing and pleasure boats along with a ton of powered workboats that have plied these local waters for the last century. Bronza is most famous for building many of the last remaining skipjacks on the Chesapeake Bay today. His skipjack Rosie Parks which was recently restored is in the St Michaels Maritime museum along with a drake tail workboat Martha which was the inspiration for the new Baltimore Water Taxi design.
After spending countless days on the water sailing, fishing and cruising with his Grandfather, Mother and Father he quickly inherited the boating bug. Being a new boat buyer for over two decades Josh soon came to realize there was an opportunity to deliver a better boating experience to boaters who were looking to buy a new boat or who were looking to start a lifestyle of boating. Josh sat down with Ryan and the largest boat builder in the world to pitch their idea to Groupe Beneteau to start a white glove, concierge based business.
With their start in Prestige Yachts Ryan and Josh continue to mold the business to meet the ways that boaters want to learn about new products, buy boats and how they want to be serviced. From our extensive Champagne Deliveries and orientations, to our on-the road service team, the focus of this owner is always on the customer.
Ryan Dobb
Yacht Specialist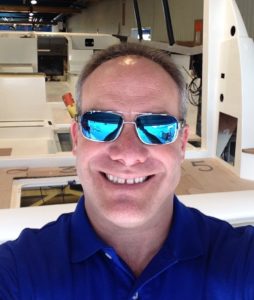 Ryan, a native of Maryland has spent over two decades boating on the Chesapeake including several runs down the ICW and back on his own boats.
He fell in love with boating as a child, going out on his friends' boats, and then began purchasing his own boats early in life, as it was his passion to be on the water as much as possible. As a boat owner for many years and across many boats, he has experienced most of the ups and downs of owning a boat and knows the excitement, family bonding time, relaxation and sometimes frustration that yacht ownership can bring.
Ryan saw the need for a different way to deliver the yachting and service experience to the boaters on the East Coast. Every day, Ryan and his team strive to deliver the best boating Customer Service experience ever to the Chesapeake Yacht Center family of customers.
Ryan and Josh founded a business on doing things differently and providing a better ownership experience than what is found out in the market today, and they are excited to continue to grow our family of yacht owners and bring them the best boating experience possible.
Captain Tom McGinley
Yacht Specialist
With over 10 years in professional yacht service and delivery, Tom operates as the Chesapeake Yacht Center delivery and education captain for all new yacht owners. He also handles basic service and warranty claims on all vessels sold by CYC.
Tom is a 100 Ton Master USCG certified captain and ABYC Master Certified technician.
Captain Brad Heil
Yacht Specialist
Brought up in boating as a young boy on the upper Chesapeake Bay, he has been boating all of his life. Brad has had a passion for boats since he was a young boy building his first outboard hydroplane at age 12. Purchasing his personal first boat at age 16 from his uncle.
He has always had a passion for boats and being on the water, crabbing, fishing, waterskiing, cruising. He worked in most of the boat yards around the Middle River, Bowleys Quarters, area as a yard boy, dock boy, gas attendant, hired crew, rebuilding wooden boats in the winter, plugging them, caulking them with cotton, sanding and painting them. He also worked in fiberglassing and learning the properties of fiberglass
As he progressed he studied diesel engine repair, hull design, and explored hydrodynamics. He has an artsy side and was always drawing boats, mostly of the Carolina Custom design but he would also draw cruising yachts. While he never took his drawings to anyone, he always found it interesting how his thoughts and innovations would show up in building designs and productions.
While working in diesel engine, building and repair, he travelled over much of the east coast following the fishing tournaments as a mechanic. Working in many of the Carolina Custom yards, as well as the Southern Maryland yards also working in Norfolk at the naval yards on various vessels. He travelled wherever he was needed.
Besides having a huge passion for the water and boating, he also has a passion for learning. He studied industrial engineering in college where he earned his AA. Then through a series of life events he went back to school and earned his degree in computer science, which took him down a different path to earning his MD teaching certification. He is also a USCG licensed captain and loves passing his knowledge on to anyone willing to learn.
In 2009 things changed and he decided to use his captains license as his main source of income. While he always tries to make the best of every situation and decision, he feels this decision was the best work decision he ever made. He has 2 sons of his own and his wife, Juanita, has 3 daughters and 1 son. He now gets to live what has been his passion since he was a young boy, and share it with his family.
His newest adventure is Yacht Sales, which gets him in trouble because he doesn't feel he's a salesperson. He just gets to talk with people about boats, yachts, and being on the water. He gets to share his knowledge and passion with others who share the same passion. If that, in turn, makes a sale, then he has accomplished a new goal. Which, makes him a salesperson!
It's all about being positive, living life happily, and making the best of every situation. Life is too short to take too seriously. One of his most favorite sayings is a song "Mamma said they'll be days like this!" and his second is "Life is not fair, Get over it!"
Enjoy your life, Enjoy your family, Enjoy your friends, What happens today is now passed. Wake up each day with a new beginning and make the best of it. Boating is a passion that brings families and friends together. You are either a dreamer or a boater. Dreamers watch and can become boaters. Boaters dream and get out on the water to experience what they love.
Justin Coleman
Yacht Specialist
Justin Coleman has been in the marine service industry for over 20 years. He cut his teeth at the age of 14 painting bottoms, learning fiberglass, and other general repairs at a family owned boat yard in Pasadena, Maryland. After earning a BS degree he went to work for a large corporate Sea Ray dealer.
Ten years later, he found his home. He is now part of the Chesapeake Yacht Center family and currently assists in running the service team and establishes client/service relations, specializing in composite, electrical, and mechanical repair.
Ian Dimka
Yacht Specialist
Ian has a pretty unique story on his journey to our team. Growing up in Maryland the Chesapeake has always been a part of his life story, although coming from a family of mid-westerners he spent very little time on the water as a child. After spending six years in Nebraska Ian return home to coach football and spend the next few years as a teacher and a bartender in Annapolis. It was only after chance conversation with one of his regulars, who happened to be a local yacht broker, that Ian was introduced to the marine industry. Ian immediately gravitated to the field and became a full time salesperson in 2013.
Since then Ian has developed a reputation as one of the best and hardest working yacht specialists on the Chesapeake. His unique introduction to the yachting industry has given him a similarly unique "outsider" perspective on yachts and yachting, which has allowed Ian to better understand his client's wants, needs, and potential questions or concerns about any yacht and yacht ownership in general. He has also taken key aspects of his past experience and applied it beautifully to his approach in the yachting industry. As a restaurateur, the customer is always right, and it's the job of the restaurateur to properly inform the customer so they can make the best decision possible. The same applies to purchasing a yacht. Additionally, Ian prides himself on telling his customers what they need to know, not what they want to hear; a rarity in the yacht sales business.
While specializing in yachts of the Prestige range, since 2013 Ian has represented multiple manufacturers and nearly every type of yacht imaginable, from center consoles and bowriders to cruisers, trawlers, yachts, and mega yachts over 100′ in length. Additionally Ian has developed a tremendous expertise in the brokerage market, helping customers find the right pre-owned yacht that fits their needs or getting their current yacht sold as quickly as possible for maximum value.
Long story short, whether you're buying or selling, new or used, you'll be hard pressed to find better representation than Ian, who is prepared to work harder and smarter than anyone else to help make your dream a reality!
Chris McCauley
Yacht Specialist
Chris enjoys spending time on the water, fishing, crabbing, and just cruising around the Chesapeake Bay. He also enjoys snowboarding and spending time with family and friends. He love cooking, grilling out, and spending time poolside, relaxing and enjoying the weather.
Bob Wagner
Yacht Specialist
Bob has spent most of his adult life around boats and on the Chesapeake Bay and has a broad marine background. Having bought and sold quite a few boats over the past 30 years, Bob understands the amount of commitment involved in preparing a boat for sale through to the final detail. Communication is a key component in any transaction, especially one with so many emotions attached. Always ready to listen, to lend a hand and to follow through on the details, you can be assured Bob will treat everyone with fairness and honesty.
He had always set his career objective to be working near the water and doing something he loves. Being a yacht specialist has brought him to that goal. Bob cut his teeth selling brokerage boats and he still enjoys helping boaters, whether they are buying their first pre-owned boat or selling their last yacht, he will help them reach their objectives. He is passionate about the new boat industry and has represented and been the brand manager for several high-end yacht manufacturers in the Mid-Atlantic. Being educated, informed and hands on are all important elements when while delivering the excitement of a new yacht.
Ask Bob his philosophy: Boaters are passionate about their time on the water. Every day on your boat is a bonus day and needs to be enjoyed to the fullest.
Sellers: We believe in co-brokerage and will network extensively with other brokers to help sell your boat quickly and efficiently. Additionally, your boat will be advertised worldwide and given priority as a valued client. I will use all the tools at my disposal to keep you informed of current market conditions.
Buyers: I have the knowledge and experience in locating, inspecting, negotiating and delivery. I will listen to your objectives and desires and find a boat that fits your expectations.
Whether you are buying, selling or trading, I am ready to go to work for you and help you achieve your goals.
Aaron Kelly
Yacht Specialist
growing up in Minnesota, Missouri, Wisconsin and Connecticut, Aaron has always been exposed to some sort of water activity. His father was a die-hard water addict. From fishing on Northern Minnesota lakes to water skiing in New England, water has been firmly set in his roots. After a stint in the United States Navy seeing the world, he ventured into Private Yachts in 1997 as a crewmember on some of the largest, privately owned yachts in the world.
In 2001, at the recommendation of friend, he joined a Wisconsin based boat dealership, which at the time had just signed the first dealer agreement for the new line of Michael Peters designed Chris Craft's. Aaron saw great success in those first three years and the dealership was the largest Chris Craft dealer in the world. Aaron honed his skills at that dealership, being mentored by a lifelong veteran of the Marine Industry that believed the customer's happiness with the result of the purchase came first. Aaron learned how to promote the lifestyle of boating and all it has to offer at that Wisconsin dealership – something that would stick with him for the rest of his boating career.
Aaron has sold Chris Craft, Tiara, Pursuit, Sealine, Viking Sport Cruiser, Sabre, Back Cove, Sea Ray, Azimut, Galeon, Scout Boats and many, many others in his twenty plus years in the boat industry. He prides himself in promoting the lifestyle of boating and yachting to others and since moving to Maryland five years ago, he's taken an interest in the health of the Chesapeake Bay and its tributaries, devoting time to maintain its survivability by volunteering with many organizations. When he's not in the office or spending time with his customers, you can find him on a boat in the bay fishing, cruising with friends and family or enjoying his kids.
Aaron believes that the time you're able to spend with your family on the water is precious time. It's the only activity where you can all be together in one place, alone, enjoying everything the water has to offer.
Brendon Mellinger
Associate Yacht Specialist
From an early age Brendon found himself drawn to the Chesapeake Bay and the culture that surrounds it. Around the age of ten his father acquired a Classic DeFever 53 POC Trawler which they used to travel the bay along with his family. Through this Brendon grew up around boats and gained an immense amount of knowledge of seamanship, maintenance, and more from his father. Brendon has been given a head start into a future maritime career.
As a high school freshman Brendon began to captain his fathers 17ft Edgewater Center console. He would go out on fishing expeditions or simply explore the bay all summer long. He honed his own skills at the helm and became very passionate and knowledgeable of what it takes to be a captain. Later in high school he took his first step into the industry where he worked as a service department assistant and got his hands dirty learning about marine systems, engines, and any aspect of marine service. After graduation he took a job as a mobile detailer and shrink wrapper and quickly realized despite his background in service, his real passion was to be at sea.
Brendon knew he had to begin to look for a job as a deckhand to start his career towards gaining his captains license. He worked hard to gain his certifications and sure enough he was offered a job as a deckhand aboard a small pleasure vessel. He spent two months aboard this vessel until he came into contact with CYC where he has found a job that truly utilizes his skills and keeps his love for the water alive.
Captain Eddie Lucas
Yacht Specialist
Eddie grew up boating and fishing with his family around the eastern shore of Maryland. In his early summers he also sailed the waters of Buzzards Bay, Massachusetts.
At the age of 18, he got his first Captain's License, necessary to operate the multiple boat platforms for teaching sailing, waterskiing and canoeing many later summers on the Chesapeake Bay.
During college, he upgraded to a 100 ton Master's License and worked on the Spirit of Philadelphia, a day and evening cruise ship on the Delaware River. After college, Eddie progressed to greater duties handling assignments and managing crews on large luxury yachts in the Caribbean. After several years of interesting cruising experience, Eddie passed his 1600 ton exam and now works half the year docking and escorting huge container ships in the Baltimore Harbor while driving a 5,000hp tractor tug boat in the Baltimore Harbor.